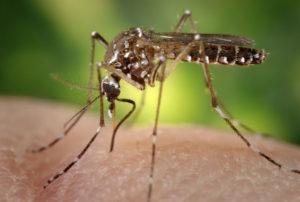 So, being a.) human and b.) pregnant, I am personally concerned about the Zika virus.  I live in central Oklahoma, and we have A. aegypti mosquitoes, though not year-round. I am at low risk for Zika.
That doesn't mean I'm not a little worried.
So, on that note, I went off looking for ways to repel Zika skeeters. Those ways are the following:
DEET
Permethrin
Picaridin
Lemon eucalyptus
DEET is greasy and more toxic than the other options, and not much more effective. It works against ticks and mosquitoes when applied to skin, but can damage fabric and smells bad.
Permethrin works well for mosquitoes but less so for ticks as they are growing in resistance. It's still pretty good though. It's applied to clothing but not to skin. It lasts for a long, long time, much longer if clothing is machine washed in cool to warm water, air-dried, and not ironed.
Picaridin is  as effective as DEET against both mosquitoes and ticks, has no odor and no greasy feel.
Lemon eucalyptus oil works as well as DEET on skin, but lasts for a shorter time. It's still fine for hours, though. It has a very strong citrus/grass smell. Not unpleasant, just very strong.
We are going with picaridin. Specifically Sawyer Premium with 20% Picaridin. It has no detectable odor, even to my pregnant nose, and felt like nothing on my skin. I could barely notice that I had something on in the crease of my inner elbow, but only if I paid attention.
Sources/further reading: