I was disbelieving when Sean told me David Bowie died. "David Bowie? The David Bowie?" as if there was some other one, as if it was a prank. It's the kind of thing Sean does sometimes, intentionally allowing me to misinterpret his words to comic effect. But no. The David Bowie is dead.
I didn't know he was sick. Or maybe I did. I knew he'd just had a birthday, and that he was 69, and that he had just released a new album. To be honest I had lost track of David Bowie a bit. The last album I had purchased of his was Earthling, released (wow) 19 years ago. I went through a brief but thorough Bowie obsession in my early twenties, which in hindsight was the last hurrah of an adolescent becoming an adult. I had such a crush! My crush was on an impossibility even moreso than the actual man, of course: I simultaneously desired and desired to be Bowie, specifically the Thin White Duke era Bowie.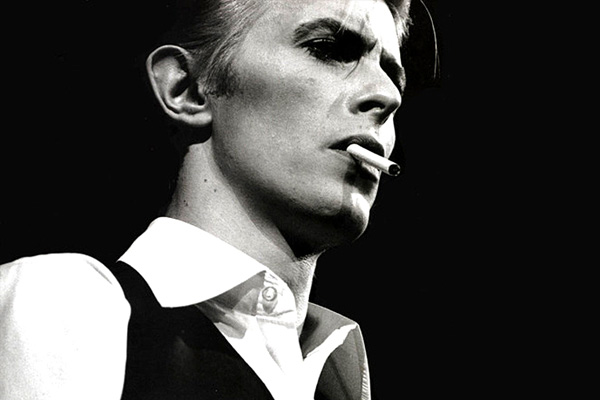 I was a coder for Seagate then, right before the turn of the century, and hearing many Bowie songs, especially from Diamond Dogs or Station to Station, sends me back in the way that only music or a familiar scent can. How does that work? I don't know. I was thin and beautiful and young, and terrifically unhappy, and thought I would always be that way. I had just ended a long-term relationship with my high school boyfriend, and had two intense but poorly thought out relationships that mostly consisted of passionate sex and tearful phone calls.
Have you sought fortune, evasive and shy?
Drink to the men who protect you and I
Drink, drink, drain your glass, raise your glass high

It's not the side-effects of the cocaine
I'm thinking that it must be love
It's too late to be grateful

It's too late to be late again
It's too late to be hateful
And then I met Sean, and all my desire became focused quite properly on him, and it has ever since. It was just that sudden, too. I can remember feeling such a deep longing that is now just gone, and has been since late 1998.
But for a time, David Bowie consumed me, and I will miss him.